The Parkers

- 
A one of a kind, exciting collective based in Edmonton, Alberta, Canada. The Parkers are made up of 4 local musicians that share decades of experience as band leaders and support musicians, playing nearly all styles of music, venues large and small, clubs and festivals local and global. Now together they have stepped into the music world as a dynamic and innovative band.
Thom Golub
- Bass and composer
Karen Porkka
- Saxophones, vocals and composer
Bob Tildesley
- Trumpet
Kevin Parkinson
- Drums
It was the desire of Karen to work with other musicians who loved improvisational music and the music of jazz bassist 
and composer William Parker that inspired this project. Both Kevin and Thom shared this passion for William Parker's music and improvisation.
 It only seemed natural to add the amazing trumpet player and improviser Bob Tildesley to the line-up. In 2007, The Parkers were born and began to play their original compositions plus music by William Parker and other select composers. Thom and Karen are the primary composers of the group but the intuitive talent and skilled musicianship really bring this group to life.
The Parkers are a friendly avant garde jazz group with improvisation as their heart beat. Their music is thoughtful, communicative, playful and has the groovy bass lines that make you want to dance. The Parkers cross the musical borders of sweet and melodious to wild and dissonant, exploring these boundaries with mastery and generosity.
CD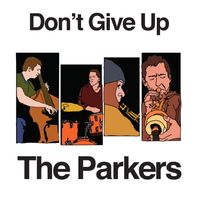 The Parkers
have recorded their first album
"Don't Give Up"
recorded Live at the Yardbird Suite in Edmonton. Released in 2012, this CD reveals the depth of their connection to improvisation encased within the unique composition styles of Thom Golub, Karen Porkka and William Parker. Copies are available from itunes and band members.


For Booking or more information contact 
Karen Porkka  porkkakaren@gmail.com
Thom Golub    thomgolub@gmail.com
0:00/8:03

0:00/8:37

0:00/14:33

0:00/6:15

0:00/8:23

0:00/7:22