The Singing V.I.N.E.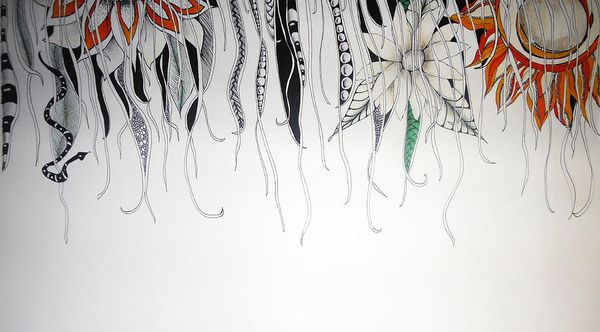 Artwork by Lori Thompson
The Singing V.I.N.E is the name of the travelling workshop that I have adapted and expanded from my work the Vocal Improvisation Network of Edmonton (V.I.N.E.) for the past 10 years. Our community is growing and the work is being called out into other communities. As vines are so adaptable, I thought ours could as well.  So, I have reworked the acronym of V.I.N.E. to be Vocal Improvisation Nourishing Everyone.  Because this is what it has done to our singing community. Vocal Improvisation has made us connect and grow as people and together in our community. Now this playful work can be brought to your community as well.  I am offering small taster workshops to full weekend or week long intensives that help communities connect in song by learning how to create luscious harmonies, infectious rhythms and soul-filled sounds of spontaneous music inspired from all that we are and the world around us. I lead all levels of singers to begin and deepen roots of vocal improvisation and to branch out to the edge of musical expression while cultivating skills of Compassion and Generosity by listening deeply to ourselves and to others.  
I am forever a student of this amazing work and I want to honour all my music teachers, my students and the especially my mentors Bobby McFerrin, Joey Blake, David Worm, Judi Donnaghy Vinar and Rhiannon, who has taken many under her wing and I am so grateful to be one of them.
The Singing V.I.N.E. Summer Tour 2017
All Events can be found on Eventbrite.ca. Search "The Singing V.I.N.E." and the city you want and then you can register or share with others who may be interested. You can always contact me via my website to ask any questions or register by e-transfers to porkkakaren@gmail.com or PayPal.me/KarenPorkka. 
28/7/17 - The Singing V.I.N.E. - Powell River, BC - 6:30-9:00pm - Cranberry Hall, 6828 Cranberry St.
5/8/17 - The Singing V.I.N.E. - Whaletown, Cortes Island, BC - 10-1pm - Gorge Hall
8/8/17 - The Singing V.I.N.E. - Courtney, BC - 6:30-9pm  -  St. John the Divine Anglican Church  -  579 Fifth Street
11/8/17  - SINGVITATION - Presentation of Vocal Improvisation featuring special guests  
                                           - Victoria, BC. - 7:30pm -  Church of Truth - 111 Superior Street
12/8/17  - The Singing V.I.N.E. - Victoria, BC - 10-1pm - Church of Truth - 111 Superior Street
13/817 - The Singing V.I.N.E. - Vancouver, BC - 6-9pm - Another Space - 1523 East Pender Street