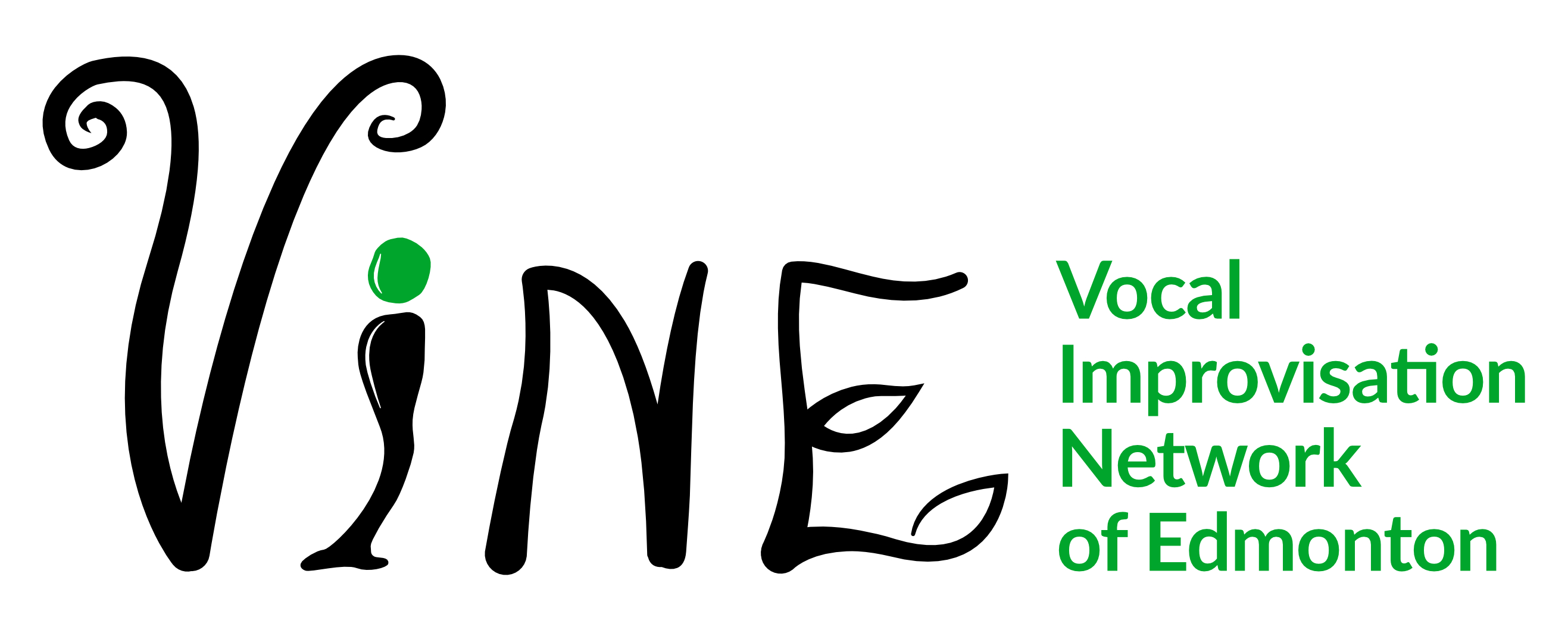 sometimes called Vocal Improvisation Nourishing Everyone gathers together singers to create spontaneous musical play and composition that will open hearts and make souls sing! 

Based on improvised Circlesinging in the lineage of my teachers Bobby McFerrin, Rhiannon, David Worm, Joey Blake and Judi Vinar and more, we evolve into leaderless forms of improvisation learning and reinforcing the building blocks of musical concepts (Rhythm, melody, harmony, etc) then applying this knowledge to improvised structures spontaneously creating music together with deep, compassionate and generous listening. We occasionally bring this form of music making into the community with performances or collaborations with other artists. Performance is always optional.
We are on summer break with some casual and spontaneous gatherings 
but this fall
V.I.N.E. continues on Monday evenings
7- 8:30pm at Westwood Unitarian
11135 65 Avenue
___________________________________________________________________________
Starting with some Drop-Ins Sings
(Drop-in sings are open to everyone, especially for those who wish to try vocal improv out for the first time or cannot commit to a registered session. We have found that we can go deeper into this work when we have the same singers each week to build upon the skills and relationships with each other. Drop-ins are also welcome the first date of each session)
Monday, September 11 and 18 - 7-8:30pm
cost by donation (suggested $15-$25)
Then, also by donation, on September 25 and Octobers 2 there will be 2 special Drop-In Sings with Lisi Sommer (long time VINEr and creator of Tongue in Groove the open vocal improvisation jam) while I am away in Montreal for 2 weeks with master vocal improviser Rhiannon and master dancer/choreographer Margie Gillis collaborating with 20 other singers from around the world on their Murmeration Project.
October 9th there will be no singing due to the holiday Monday but we will return with 
SESSION 1 (5 weeks)
October 16 (Drop-ins welcome), 23, 30
November 6 and 13
Cost $110
SESSION 2 (5 weeks)
November 20 (Drop-ins welcome), 27
December 4, 11 and 18
Cost $110
Register for both sessions - $200
** If you are also a current Soul Song Circle Singer you will receive 10% off your VINE fees.
No one turned away due to lack of funds
cash, cheque made to Karen Porkka or etransfer to
karenporkkamusic@gmail.com
Looking forward to making music up with you!
***please note that singing with masks are optional and all voices are welcome***
A heartfelt thanks for all who support V.I.N.E. with attendance, love and enthusiasm for all that
Vocal Improv has to offer!  
Please contact Karen with any questions you may have.
SING ON!
0:00/2:39

0:00/4:15

0:00/4:41

0:00/5:13

0:00/3:05

0:00/5:30